Sponsor & Exhibitor Opportunities
The annual Snowbird Fest provides the ideal setting for in-person networking for property owners and businesses targeting winter travelers. Thousand of snowbirds attend the annual event, which grows each year. Held at the onset of the season, it provides businesses a prime opportunity to market services available the length of a snowbird's stay, insuring an exceptional return of investment. As the event grows, exhibitor space becomes more limited, requiring The Snowbird Company to restrict the number of booths available, so register your booth today!
DID YOU KNOW?
Nearly half of all snowbirds will vacation for three months, generating long-term winter income for property owners, retail stores, property and resort managers, restaurants, healthcare providers, entertainment (golfing, fishing, sailing), real estate professionals and more!
Why Market to Snowbirds?
Winter travelers occupy your vacation rental properties during the off-season, ensuring rental income is generated not only during the summer season, but during winter as well. Our research shows the following:
98% of snowbirds will vacation during January with 92% still vacationing in February and 58% extending their trips through March. 30% begin their travels in December
Property Managers: More than 30% of last year's snowbirds told us they are spending between $1,200-$1,499 on rent per month. Nearly 20% of snowbirds are spending over $1,500 per month. Almost 50% of winter travelers found their rental on rent-by-owner sites like: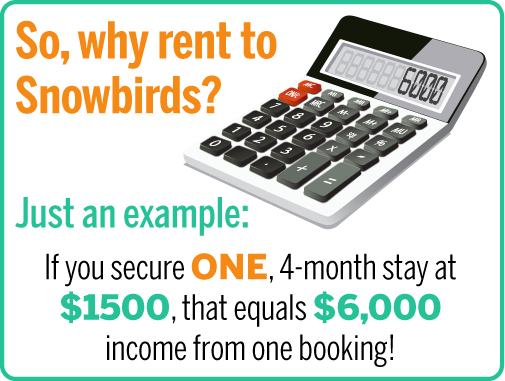 Other Advertising Options
Advertise. Not just in-person, this one event, but also online and print year-round. The annual Snowbird Fest is produced by The Snowbird Company, the largest conglomeration of rent-by-owner websites targeting winter travelers. In addition to event advertising, other marketing opportunities include online, print and email. These advertising opportunities facilitate your need to fill your business with customers during the off-season. Banner ads and digital display ads are also options available on our network of snowbird websites, starting at reasonable monthly rates. These ads are ideal for property and resort managers as well as individual business owners looking for more visibility during this otherwise slow season of the year.
Post Available Rentals Online. Are you an owner and/or property manager that has rental properties sitting empty for months between October and April? If so, then follow the lead of thousands before you. List your rental property online with The Snowbird Company on our American Snowbird Network of rent-by-owner websites for one, low price and access more features and unique offerings than other nightly or weekly rent-by-owner sites. Property managers and individual owners alike are invited to participate in our network. Some of the features offered include:
Print: The Snowbird Newsletter is our printed publication distributed at Snowbird Fests, trade shows as well as newsstands and the Chamber of Commerce. The newsletter contains a complete listing of all our winter vacation rentals across the entire snowbird online network. In addition, the newsletter contains stories and articles targeting the snowbird lifestyle.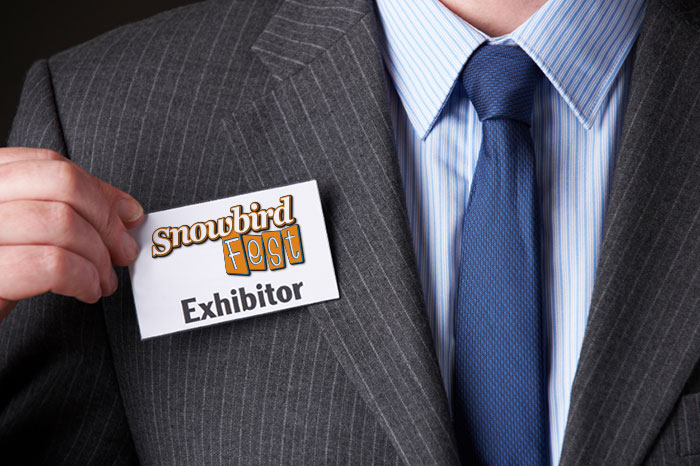 The #1 Snowbird Rental Resource
Sign Up for our Snowbird Email Newsletter!
You won't miss any of our newest listings when you sign up for our e-Newsletter!